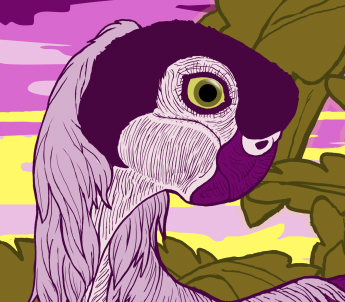 Raven Amos is a digital artist and illustrator living, working, and playing in the wilds of Alaska. Born in the era of far flung fantasy films and cheesy animation, Amos developed a love of reading, art, and dinosaurs at a very young age, inspired by the illustrations of Robin James, Brian Froud, William Stout, and Peter Zallinger, and the art instruction books of Preston Blair.
After job shadowing under the late landscape painter Otis "Scotty" McDaniel in her early teens, Amos spent the remainder of her primary education expanding her artistic talents and exploring many art forms. During this time, she drew the most inspiration from Japanese art, including contemporary comics and animation, and traditional woodcut styles. Combining all these disparate sources of inspiration, Amos won several ribbon awards for her watercolor illustrations and ceramic sculptural works at the Alaska State Fair in 1997 and 1998. She immediately enrolled in the Art Institute of Seattle in the Graphic Design and Animation Arts programs after graduating high school, and upon returning to her home state, continued to pursue a career in Graphic Design.
Amos met her husband Scott Elyard on the job in 2007, where he rekindled her love of dinosaurs and encouraged her to return to her illustration roots. In the years since, Amos and Elyard have collaborated on many projects together, including museum display pieces, art shows, and murals. In addition to these more traditional artistic exhibitions, Amos has created dinosaur-themed merchandise, earning several accolades on apparel design websites and various paleontology blogs.
Career: