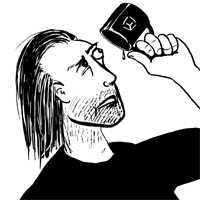 Who am I?
I'm a naturalist. A person who makes an effort in understanding as much of the natural world as I can. Paleontology, natural history, astronomy consistently remain my passions, carried from a very young age through adulthood. Understanding is sometimes challenging (especially for the self-taught). But I find it worthwhile.
World-traveled: I've lived in Antigua, Japan, Adak (an island in the Aleutians), and visited England, South Korea, and many of the United States.
Artist is not a role I've always carried. In dark times, I've set down the vocation, and allowed it to languish. No more. My commitment to Raven comes with a permanent promise to never set it down again. This site is designed to facilitate that promise.
Autodidactic & slightly ambidextrous.
I am an artist, maker, & designer. I'd like to play more tabletop games, but time is often reluctant to part with much more than I've already been given.
What do I want?
Books. Access to museums and aquaria. Time to sketch, paint, and create.
But really, I want pterosaurs, ridden by Micronauts, to fly through time to face my worst fears.
I assume that's feasible.
What do I do?
Career